An empty, waterfront lot is our listing highlight today at 11631 Renaissance Drive.  It sits ready to go in the Grand Harbor Subdivision on Lake Conroe in Montgomery, Texas.  Allow me to break down this property into three selling points: lot size, location, and lake access.
Lot Size: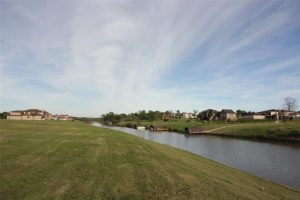 This listing includes over half an acre of waterfront property on Lake Conroe.  It faces the south and offers great views.  This land also has a bulkhead.  The lot is already cleared and literally sits ready for your new custom home all for the great price of $85,000.  In fact, this land was a builder preferred lot; therefore, it is certainly a great piece of property with amazing potential.  By the way, both neighbors have already built homes so you won't have to deal with other construction.
Location:
Grand Harbor is a gated community with manned gates.  It sits near many golf courses, conveniences, and even the new Margaritaville Lake Resort.  The community has a lovely park complete with volleyball courts and a boat launch.  The Island on Grand Harbor, which is exactly where this property sits, already has concrete streets, fiber optics, and beautiful homes.  Children attend Montgomery ISD schools from this location.  With everything combined, the location of this property is truly a wonderful selling point.
Lake Access:
What is the point in having views of the water and waterfront property without lake access?  This listing offers all the above.  You are just a short distance from the open waters of Lake Conroe.  If you need more information about the lake, please read "Lake Conroe Trivia" to learn all that this man-made lake has to offer as well as fun facts about the lake.  Also read "Lake Conroe is One of the Best Lakes in Texas" to read what makes the lake so special.
Check out the video to see the property.  To see it in person, don't hesitate to contact Mike Goins at 936-718-1370 to schedule a showing.  Between the lot size of waterfront property, the great location in Grand Harbor, and the easy access to a beautiful lake, 11631 Renaissance Drive offers an amazing opportunity to purchase lake front property at a wonderful price.