Today I want to highlight a new listing in the Lake Conroe area. The single-family home sits on the southeast side of the lake in Conroe. 12261 Emerald Mist Lane has many selling points, but I want to point out three reasons why you should consider making this house your home. It is meticulously maintained, has marvelous features, and minimal distance to the lake.
Meticulously Maintained:
The home at 12261 Emerald Mist Lane was built in 2018. Since then, the owners and residents have taken excellent care of it. The house is immaculate. It would be like buying a new house, which has lots of advantages. No need to rehab, remodel, or redo anything. This listing is ready for you to move in.
Marvelous Features: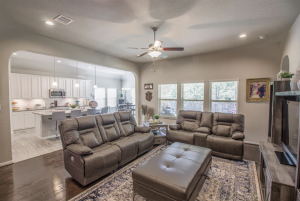 12261 Emerald Mist Lane features many impressive qualities. Beginning with the floor plan, this 4 bedroom/3 bath house has plenty of space with an open floor plan. This home is all on one level, too. It has a bonus room, which you could use as an additional bedroom or home office. And, it has a space that you could use as a second living room or even a dining area. In addition to all of its inviting spaces, this home features both smart technology and security abilities. Outside there is a covered patio with privacy as there is no backyard neighbor. Watch the video to see for yourself how great this home is.
Minimal Distance to Lake Conroe:
Living in a lake community comes with great amenities. Choosing to live at 12261 Emerald Mist Lane enables you to enjoy the amenities without a huge price tag. The community offers a boat launch, fishing ponds, and beautiful community center. Enjoy a tremendous view of the lake as you turn into the community on your way home. The lake lies so close to the house. Swim in the community pool with views of the water, too. It overlooks Lake Conroe.
Therefore if you are looking for a meticulously maintained home with marvelous features and a minimal distance to the lake, then check out my newest listing. 12261 Emerald Mist Lane will not stay on the market long. It has too much going for it. To read the full listing, click here. Contact me directly for more information or to see the house.