Today I am highlighting my new listing right here in Montgomery. It really is an amazing opportunity because of the versatility of the property. 13225 FM 149 is a beautiful barndominium with acreage, frontage road, horse stalls, and much more. Already you can probably see the various possiblities for the new owners. Let's check it out!
Barndominium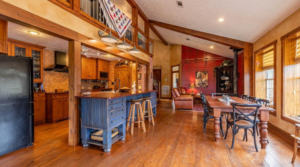 The barndominium at 13225 FM 149 has two-stories with a total of four bedrooms and two full bathrooms. All the bedrooms are upstairs. The home is full of custom woodwork, which elevates the interior. Real wood floors fill the open living space with warmth and beauty. The kitchen has upgraded appliances, tons of storage, and a great view of green pastures.
In addition, there are many bonus rooms that you can use as needed. Currently one is a fitness room and one is an office. This barndominium easily offers both personal and business use. There are two insulated workshops included with over 2,000 square feet of space each. It has a conference room and even parking.
Barn
This property comes with two horse stalls. It also has a dedicated place for hay storage and a covered working area. Additionally, ride your horse in your own riding area! It is 120′ x 50′. There is also plenty of room to keep your tractor out of the elements. The barn is a horse lovers dream come true.
Garden
This property already has established garden beds for growing vegetables. However, most properties do not come with a hydroponic greenhouse fully equipped for you to begin raising your own produce. Well, 13225 FM 149 does! The greenhouse is 20′ x 36′. Nine hydroponic towers come with the property. It is an unbelievable find. You don't have to have a proverbial green thumb to be successful at growing vegetables here.
Land
13225 FM 149 has over six acres of land in Montgomery County. It is completely unrestricted, which really offers freedom and flexibility. This property also has 700′ of frontage along FM 149. This fact alone enlarges your business possibilities. Much of the land is level with cleared pastures. There are trees for shade and to provide you privacy.
So what would you do with this versatile property at 13225 FM 149? Would you use it all for personal use? Would you rent out space? Or would you turn it into your business? With this space, you could do a mixture of all three. The possibilities are seemingly endless. Please check out its full listing and video. Let me know if you are interested in this versatile property.