Today I want to highlight my newest listing. It is an exciting lakefront property. 28 La Jolla Circle is a step above most houses along the banks of Lake Conroe. The house alone has so many selling points I would not be able to list them all. However, I will shine a spotlight on three main selling points.
A Magnificent Mansion
The definition of a mansion is a large, impressive house. I could not think of a better way to describe 28 La Jolla Circle. The home consists of over 4,700 square feet with 4 bedrooms and 4.5 bathrooms. Additionally, there is a game room, office, private workout room, and so much more. The house contains every room you could possibly require.
28 La Jolla is a custom house filled with high-end finishes. Custom wood-working and Travertine marble floors elevates this home with no expense spared. In the unseen places, 90 foundation piers support the house and foam insulation helps drive down energy costs. From the roof down to the foundation piers, this house stands out from the rest, which it why it is deemed a magnificent mansion.
Massive Outdoor Space
28 La Jolla sits along the open waters of Lake Conroe on over a half acre lot. The owners have carefully considered the best way to use the property and executed it perfectly. In fact, you will feel like you are at a five-star resort instead of home. And the best part…you get to enjoy the outdoor space privately or alongside your guests instead of strangers.
The home has a massive covered patio complete with a fireplace and outdoor television. It has ample space for different seating areas and even outdoor dining. From this patio, enjoy the lake views or watch people in your beautiful swimming pool. It comes with an adjoining hot tub, too. There is nothing like swimming in crystal clear water right next to the lake. If the lake is more your speed, then be on the water immediately from your newly-built boat house. There is room for your boat and two jet skis. They are also protected with a second story deck. The deck is built from high-quality, synthetic materials so you won't have to worry about rot. The deck is a massive! Truly feel like you are on vacation at your own private resort.
Masterful Design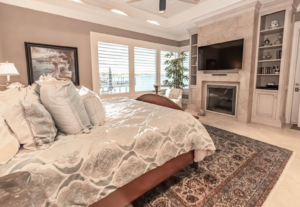 Every room at 28 La Jolla showcases its masterful design all in a one-story home. Like I said before, I could go on and on. For the sake of time, let me just highlight two rooms in the home to illustrate what I mean. First, let's discuss the primary bedroom and en-suite bathroom. Wake up each morning with views of the open waters of Lake Conroe. It is not only spacious and enjoys high-end finishes, but it also has a fireplace for romantic evenings. The adjoining bathroom is amazing with tons of storage and luxurious elements. The bed/bath combination is frankly better than most resorts and it would be yours every single day.
Now let's explore the chef's kitchen. Within the open concept floor plan, the kitchen carves up its own unique space beautifully. Enjoy views of the lake while you wash dishes or do food prep. The beautiful cabinets offer tons of storage. The granite countertops provide a gorgeous surface to work on in the kitchen. If you don't cook well now, the kitchen will be sure to inspire you with its high-end appliances. It is one well-equipped kitchen.
28 La Jolla Circle has a tremendous amount of house, space, and luxury to offer its new owners. They will be sure to live the luxurious lake life along the shores of Lake Conroe. To see the full listing complete with many photographs, click here. To see the video, click here. Of course if you have any questions or interest in this property, contact Mike Goins at 936-444-5929.