Today I want to highlight a new listing in Houston, Texas. This beautiful house sits at 6128 Queenswood Lane in the Timbergrove Manor Subdivision. It has numerous selling points, but I want to highlight three specifically today, which are its outside oasis, its outbuilding, and the opportunity it presents.
Oasis: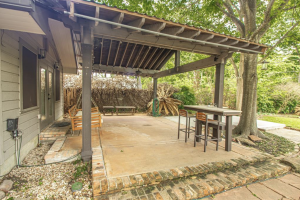 Forget you live in the 4th largest city in the United States with this backyard! This lot has two covered patio areas, nice shaded areas, and a large space to play on the lawn. Even further back sits a patio area looking out to green space and the bayou. At times you can hear the sound of running water, but you almost always hear the birds in the trees overhead. This backyard oasis enables you to escape the city without leaving. Allow nature to transport you to the country.
Outbuilding:
Not often does such a sweet house have a functional outbuilding in the city. This one does within the confines of the backyard oasis. Use it as a shop for your hobby or side business. Of course, you could utlitize it as an office away from the main house.  Additionally, the back of the garage has another workshop area. You could use it for storage as well. Have a beautiful setting to use your imagination and create or conduct business at 6128 Queenswood Lane.
Opportunity:
The 3 bedroom & 2 1/2 bath home has recently been updated in key areas. Both the kitchen and master bedroom have been updated. During the freeze, some pipes did burst; however, all of that has been cleaned up. It does need very minor repairs to sheetrock. Add that to how functional the open floorplan is and you have an awesome opportunity at hand. Make this house a home.
6128 Queenswood Lane is a fabulous find in Houston with a backyard oasis, outbuilding, and huge opportunity. Its location enables you to make it to downtown quickly and easily. In fact, you have quick access to anything you could need in Houston.
Check out the full listing and contact me directly at 936-718-1370 if you have any questions. In this market, you have to act fast if you are interested.