Thanksgiving is just weeks away and families everywhere will be gathering to feast on traditional fare and conversation. Setting a beautiful tablescape elevates your dinner party. Even after all the plates are cleared away, the table still appears gorgeous. Today we will look at two very different styles of fall centerpieces: rustic and modern.
Rustic:
With farmhouse decor being so popular, the rustic look continues to grace magazine covers. Weddings and home decor still rely on the rustic look. Now we don't have to go all mason jar, burlap, and baby's breath. In fact, the key to a rustic look is using simple, natural items. Usually you can take what you already have in the home and repurpose it.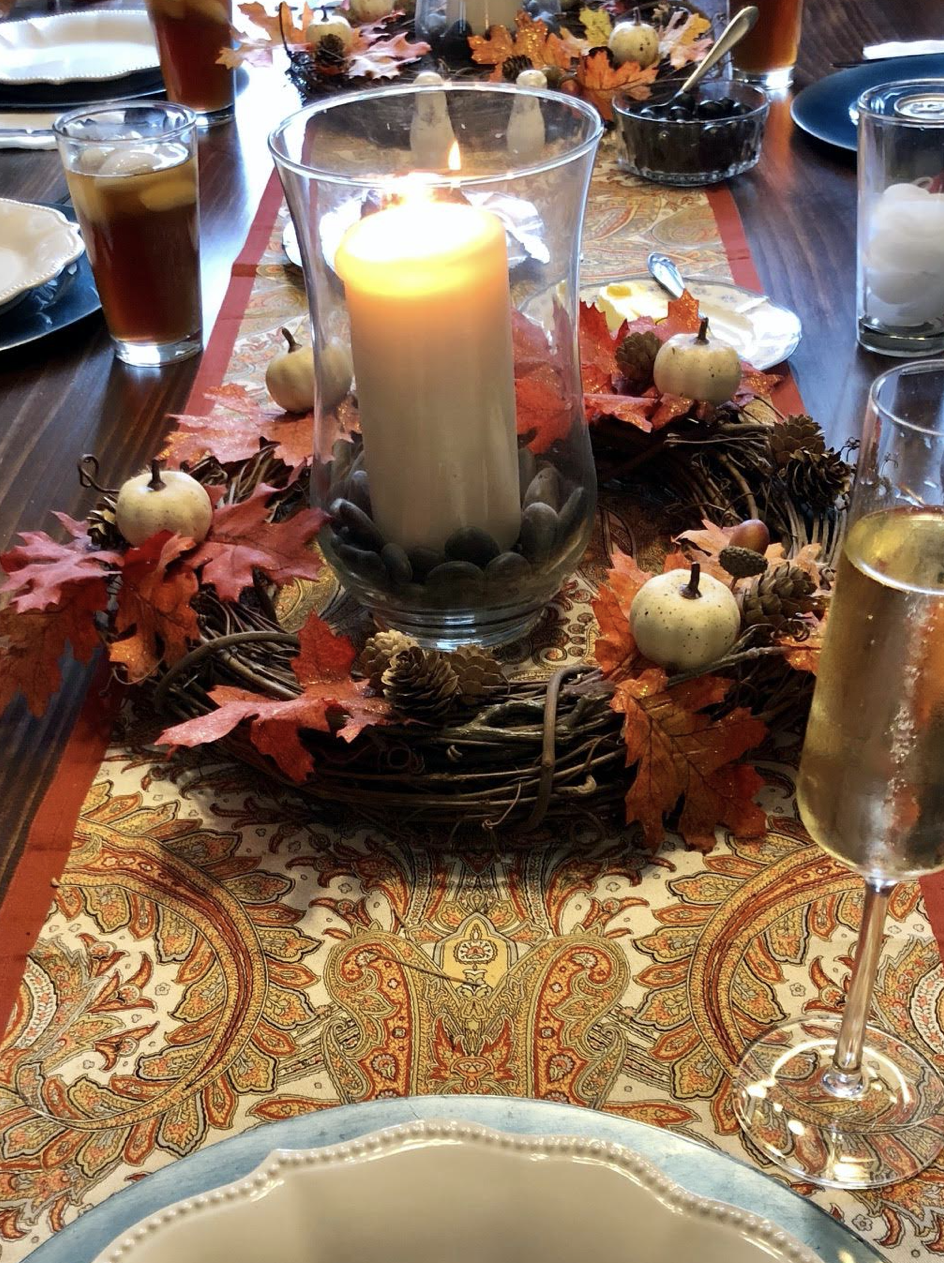 For example, take a large wooden cutting board and place a platter on top. The platter can be porcelain, stainless steel, or even wooden. Fill it with ivory pillar candles and either small pumpkins and gourds, pinecones, fresh fruit, or a mixture of all the above.  Take some greenery like flat-leaf eucalyptus and place around the platter on the wooden cutting board. To see a similar centerpiece, check out Better Homes & Gardens.
Another option for a rustic look is to repurpose two fall wreaths. These will encircle a tall glass jar with a large pillar candle inside. The wreaths add autumnal color with usually natural elements like leaves, grapevine, and/or pinecones. The wreaths sit low on the table; therefore, they do not block people's view across the table. This is an important detail that you do not want to overlook. As always, candles add a soft, warm light to any tablescape.
Modern:
"When speaking of Modern design, three things come to mind: clean lines, meaningful pieces, and an edited approach," says designer Mikel Welch. "It's all about minimalism and refinement—it sticks to the basics yet nothing is basic about it!" When designing a modern tablescape, think as Anna Kocharian writes, "A palette of natural, earthy tones with contrasting accents that can include primary colors, black, and even lustrous metals."
As far as a fall centerpiece goes, you can go two ways. The first is to think white, greenery, and gold. A white tablecloth with white taper candles in gold holders. White pumpkins and greenery fill the area in the center of the table under the candlelight. Then fill in with gold tea light candles. This is similar to the photo at the top of the page.
The other option is to go moody with blacks to contrast the white. Think of the same white tablecloth, but place a black runner down the middle of the table. Have the same gold candle holders, but this time with black tapers. Fill white pitchers with dried wheat or dark apothecary bottles with white spider mums. For inspiration, check out DigsDigs and scroll down to the modern look with a black runner.
Whether you go rustic, modern, or mix the two styles, hopefully you are inspired to create a beautiful tablescape for your Thanksgiving dinner. Design it now and enjoy the fall centerpieces all month long.