Today offers are due for anyone interested in the home at 3910 El James Dr. It sits in the Cypresswood neighborhood, in Spring, Texas. Looking at the photographs you can tell why anyone would like this house.  It is a great single family home with four bedrooms and 2 and 1/2 bathrooms. It combines the beauty of new upgrades and vintage details. For example, the block panelling in the family room and the central fireplace are original architectural designs in the house, which give it character. However, let's highlight three areas where this property excels: upgrades, utilities, and uniqueness.
Upgrades: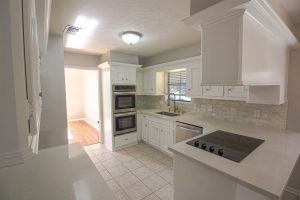 The home was built in 1984, but it has been well-maintained. The current owners recently updated the kitchen with quartz countertops, stainless steel appliances, and fresh paint. If you are not familiar with quartz, they are beautiful, high-end countertops. They are popular with homeowners because they require low maintenance.
Beyond the kitchen, the roof is fairly new. They installed it 5 years ago. Outside, the house has durable hardiplank, which is also easy to maintain. In the yard, they have thoughtfully landscaped both the front and backyard, including adding a full yard sprinkler system. It has the potential to be an oasis for you and your family.
Utilities:
Energy efficiency is key to lower utility bills. The air-conditioner is less than a year old. The current owners re-insulated the attic to make it more energy-efficient and also installed new lighting. They installed a rain soft water filter as well as a new water heater. They have thought of everything from the obvious to the more obscure ways to save money on your utility bills.
Unique Opportunity:
3910 El James must sell today; therefore, it is an unique opportunity to end the day well on your way as a new homeowner. All offers must be in by 6 p.m. CST. The home is priced to sell, but they will accept the highest and best offer. Don't hesitate. If you are in any way interested in purchasing a new home with upgrades, great utilities, then you need to contact me at 936-718-1370 today to take advantage of this unique opportunity. To check out the full listing, click here.