My husband booked a night at Margaritaville Lake Resort for the both of us. We don't get away very often and we wanted to experience island flavor on the banks of Lake Conroe. The online reviews of the resort are all over the place; therefore, I thought I would write about our experience in the hopes of helping people with an honest, unbiased review of Margaritaville.
From the very beginning the booking and check-in process was very easy.  The staff was very professional and friendly.  They reached out the day before to confirm our reservations and mentioned that we could call the next morning to find out when our room would be ready instead of waiting until the 4 p.m. check-in.  We were thrilled!  We ended up being able to arrive at 1 p.m.  After a very brief explanation about COVID-19 expectations of the hotel staff and guests, which were all based on common sense, we took the elevator to the 20th floor.
Accomodations: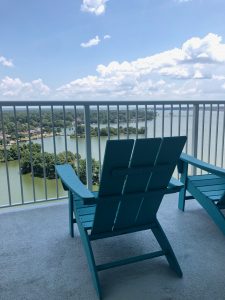 Our room was amazing!  It was the corner room on the top floor directly across from the Jimmy Buffett Suite.  It was beautifully decorated with an upscale beach style.  The first room had a comfortable couch, desk, and a large TV.  The mini-fridge was hidden in a cabinet as was a safe.  A Keurig sat ready for the morning.  A wall of windows with a sliding door allowed so much natural light to come through the sheers.  Of course black out curtains sat behind waiting to be needed.  The door lead to a large balcony with two Adirondack chairs and followed the curve of the building, which gave a 220 degree view.  Lake Conroe looked beautiful!
The bedroom was also spacious with a king-size Bed and decor keeping with the upscale beach style.  Another wall of windows, including another sliding door, lead to the same balcony outside.  Another large TV hung on the wall along with photographs of beaches, parrots, and palm trees.  The bathroom was huge and also done very tastefully.  The walk-in shower with the rain shower head consisted of tiles in the colors of the ocean.  All in all, our room surpassed all of our expectations.
Waterpark:
We put on our swimsuits and headed out to the water park.  There are four main pools: a fun one for little kids, a lazy river, another fun one for older kids, and a large, double-decker pool area.  The latter seemed more for adults.  Swimming was fun and refreshing.  I was impressed with the amount of staff working around the pools.  People were checking out towels to guests, delivering food from different resort restaurants, serving drinks from the bar either to swimmers or loungers, lifeguards, bartenders, etc.  Also the pools were not crowded, but definitely full.  Adjustable, comfortable lounge chairs sat in pairs sharing an umbrella all over the pool area.  Other lounging chairs sat in the shallow area, which gave swimmers a chance to catch some rays.  In addition, there are four private cabanas available to reserve.  We really enjoyed the live music, which they seem to schedule daily.
Dining:
Later that evening, we chose to visit Landshark's Bar & Grill for dinner.  It is open to the public and guests.  The restaurant has a great waterfront view of Lake Conroe.  You can eat indoors or outdoors and even in August many patrons chose to eat outside.  There is an outdoor area with a fire pit and sand dotted with little thatched cabanas.  We chose to eat in the air conditioning.  We ordered an appetizer, drinks, and then entrees.  I was not a fan of the food; however, my husband is still talking about how good his Buffalo Sriracha Shrimp were.  So apparently it depends on what you order.
Other Amenities:
After dinner, we strolled down the lake and ended up on a nice, raised deck above two long piers.  We sat and chatted while the sky darkened and the stars began twinkling in the sky.  Then my husband checked out two putt-putt golf clubs and a ball with the front desk.  An employee offered to drive us over to the miniature golf course in a golf cart, which we accepted.  The course has 18 fun holes.  We had a blast!
The next day I took my coffee watching the sun rise over the lake on our balcony.  We enjoyed the pools again.  Eventually we packed up and checked out knowing that all good things must come to an end.  We completely enjoyed our stay at the Margaritaville Lake Resort.
Summary:
In summation, the hotel itself is beautiful.  The staff focused on serving their customers with excellence.  This is a great place for couples and families alike.  I know my children would have loved it.  Overall Margaritaville Lake Conroe is a solid resort catering to guests and employing lots of locals.  I think it is a great addition to the Lake Conroe area.
"Come Monday" you can have "A Cheeseburger in Paradise."  "If you like Pina Coladas", drink up because "It's 5 o'clock Somewhere".  Seriously if you are not a fan of Jimmy Buffett, you will have a hard time understanding the resort, but maybe you will leave with an appreciation of his laid-back, tropical music.  I hope that you have found my review of Margaritaville Lake Resort helpful.
To read more about Margaritaville and see a great photo of the waterpark, click here.