2267 Golden Laurel is a brand new listing worthy of highlighting.  It sits on a cul-de-sac in the nice Laurel Ridge at Graystone neighborhood in Conroe, TX.  It is a fairly new Lennar house, which was built in 2017.  In addition to its great location to the city of Houston as well as Lake Conroe, 2267 Golden Laurel has excellent layout, elegant finishes, and elbow room.
Excellent Layout:
The open floor plan enables easy entertaining with the kitchen, dining, and living room creating one large space.  The home has three bedrooms with a study that can be converted into another bedroom, office, etc.  The flow of the home illustrates the experience of the designer.  It is well-done.  In the kitchen alone, the layout allows for efficient work with a well-planned golden triangle between the oven, sink, and refrigerator.  Generous cabinets enable you to set up effective work zones.  The house on the whole enjoys an excellent layout.
Elegant Finishes:
In addition, this beautiful home has been finished with high-end touches.  Crown molding lines the living area, kitchen, and dining room.  In the kitchen, the granite countertops and stainless steel appliances combine for an exquisite, refined look.  The house exudes an elegant vibe.
Elbow Room: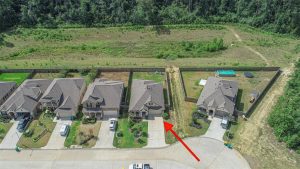 You might not hear these two words describing a home, but for 2267 Golden Laurel it works.  The way the house is situated on its lot allows for a nice space between neighbors, especially to its left.  However, the most elbow room sits behind the house.  No backyard neighbor is the best neighbor.  Instead, a huge, open field lies behind lined with wooded property.  Therefore, you can sit in your backyard on your covered back patio and look onto a pasture and forest.  It creates privacy and a spacious feeling.  .
2267 Golden Laurel will make a great home.  Here are the links to watch the video or to read more about the house with the official listing.   If you are interested, please contact Mike Goins at 936-718-1370 for more information or to schedule a showing.  He would love to show off this lovely house for its excellent layout, elegant finishes, and of course elbow room.