Today I am happy to highlight my newest listing. It sits at 21415 Golden Dove Drive. The home is part of the Dove Meadow community in Spring, Texas. It is a single-story home with three bedrooms and two full bathrooms. Let's look at three of its main selling points.
Open Living Area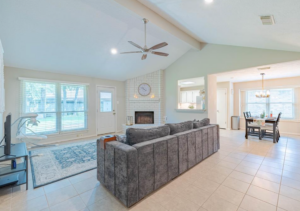 In the light and airy open living area, there are vaulted ceilings which create an abundance of space. The brick fireplace is a wonderful focal point and will provide warmth during the winter months. The tile floors unite the open living area while also providing easy maintenance. The living area opens up to the dining room, which enables you to entertain easily. In addition, the neutral colors within the room create a space in which you can decorate your new home in your style and color scheme. All in all, the open living area is a huge selling point for 21415 Golden Dove Drive.
Overhauled Kitchen
Another selling point is the updated and overhauled kitchen at 21415 Golden Dove Dr. It is a spacious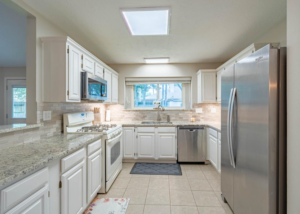 galley kitchen with beautiful granite countertops. The white cabinets are not only stylish but provide ample storage space. The tile backsplash completes the renovation beautifully. The window above the sink allows you to look out into your fenced-in backyard. This home has a lovely kitchen in which you can prepare delicious meals and memories for years to come.
Outstanding Location
21415 Golden Dove Drive has an outstanding location. In just minutes, you can access I-45 or the Grand Parkway Toll Road. The Woodlands is super close with all the stores, amenities, restaurants, and more. You can also get to Lake Conroe in a little over half an hour.
21415 Golden Dove has an open living area, overhauled kitchen, and outstanding location. However, we have not discussed the large backyard or the primary bedroom. To see the full listing, click here. Watch its video, too. Of course, contact Mike Goins at 936-444-5929 with any interest. Act fast because it is an outstanding home priced to sell.